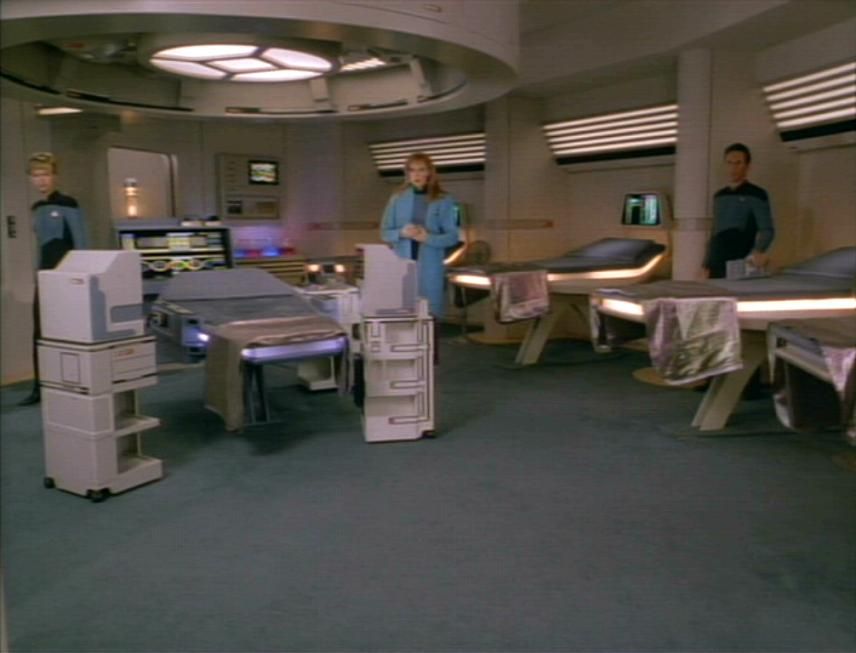 New guests have arrived on the
Enterprise
, and that means Lieutenant Worf and his security detail are busy once again bringing them to see Dr. Crusher. Sickbay isn't all that unusual. There are no terrifying devices or humming machines you could see in a sci-fi thriller. The biobeds along the walls are equipped with biofunction monitors, but look fairly standard. Instead of silver trays filled with metal tools and sawblades, there are an array of small devices that look as harmless as cell phones. As for Chief Medical Officer Crusher herself, she's well-groomed and kindly, wearing her teal uniform and a blue coat. All of the medical personnel, in fact, look harmless. Well, perhaps excluding the sun avatar, but Trance Gemini is as skilled as the Starfleet officers.
"All right, come in," Dr. Crusher calls out as you enter. "Don't be shy. It's just a scan and a hypospray, nothing to worry about."
Probably.
[ooc:
Same rules as
before
: this is an open log for everybody. Tagging isn't mandatory, but going to sickbay is. So if you'd prefer to skip threading with one of our doctors, you can handwave that your character got a clean bill of health and a shot and were sent on their merry way. For those who are tagging, we have Julian Bashir, Bones McCoy, Trance Gemini, and Beverly Crusher on deck, so if you have a preference please specify it in the subject line of your tag. If you would like more details about sickbay,
here's the wiki page
. If you haven't made your OP yet, you can assume the doctors will want to see your character shortly after they arrive.
]